Welcome to AISAN web-site.
◆◇ About Us ◇◆
Aisan Electric Co., Ltd. was established in 1949.
We are located at the center of AKIHABARA Electric Town in Tokyo Japan.
(See the map)
◆◇ Products ◇◆
◇Optical Parts
Optical Fiber(Glass,Plastic)
Optical connecter(LC,SC,MU,FC,MTRJ)
Media converter
Tool
Tester
Cleaner etc.
◇Metal and power supply parts
Cable and wire
Connectoer,plug,receptacle
Wire protector
Wiring tool
Tester
Tape etc.
◇Network Devices
Hub
Router
Network Camera
Firewall
UPS etc.
◇RFID
Active & Passive Tag,
Reader & Writer
Please contact us by E-mail or FAX.
E-mail:sales1@aisan.co.jp
FAX:81-3-5256-3531
We can ship our products to you by FedEx,DHL or SBY after charging to your credit card.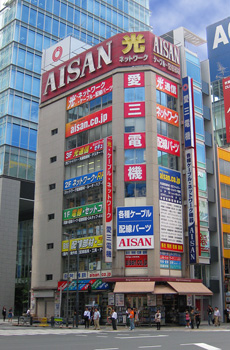 Aisan Electric Co.,Ltd.
Company Name
 Aisan Electric Co.,Ltd.
President
 Hiroshi Kawai
Address
 12-3 Sotokanda 1-chome
 Chiyoda-ku
 Tokyo
Bank Account
 MUFG Bank, Ltd.
 Bank Code:0005
 Address:6-3Kandakaji-cho 3-chome, Chiyoda-ku.Tokyo
 Kanda-ekimae Branch
 Branch Code:010
 Account Type:Touza
 Bank Account# No.2020877


 Swift code:BOTKJPJT
3F
Sales general
 FAX 0120-21-3611
 Phone (03) 3253-3611
 E-mail:sales1@aisan.co.jp
2F
Optical Products/
Network Devices
 FAX 0120-71-3611
 Phone (03) 3253-3611
 E-mail:sales3@aisan.co.jp
1F
Electric Wire/
Network Wiring
 FAX 0120-51-3611
 Phone (03) 3253-3611
 E-mail:sales1@aisan.co.jp
B1F
Wiring parts&tools
 FAX 0120-52-3611
 Phone (03) 3253-3611
 E-mail:sales1@aisan.co.jp
Business hours
ATTENTION


Until the end of May, Our business hours below
Monday~Friday (except:National Holidays) 
OPEN: 10:00~17:00

Normal business hours (from June)
Monday∼Satuaday (except: National Holidays)
OPEN: 10:00∼18:45